Fighting Obesity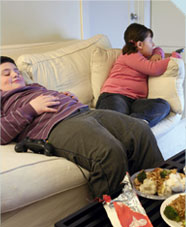 A quarter of all UK children are now estimated to be clinically obese, making this the defining health issue of our time. Over the last twenty years obesity has trebled, and on current trends it is set to become the number one cause of death in the next ten years.
Facts and figures
Obesity will soon overtake smoking as the leading health problem in the UK
Half of all children could be obese by 2020* (Lobstein et. al. 2005)
An obese child is twice as likely to become an obese adult, and this risk is increased five fold if the child has obese parents* (Whitaker et al. 1997)
Obesity is associated with the onset of Type 2 diabetes and cardiovascular disease
The economic cost of obesity in England is estimated at well over £7.5 billion a year* (House of Commons Select Committee, 2004)
Poor diet and a sedentary lifestyle composed of TV viewing and computer game playing are contributing to an increase in childhood obesity
To avoid an obese adult population riddled with serious health problems, experts recommend that physical education and activity are pursued and promoted in childhood. Stealth fitness is instrumental in this, as the higher the level of enjoyment, the less aware children are of the exertion required. Integrating exercise based play equipment into accessible environments enhances the physical play experience, getting children interested in exercise and keeping them interested.
Ideally, children should participate in one hour of moderate intensity activity per day, and at least twice a week activities should focus on muscular strength and flexibility (Twisk, 2001). Playing or exercising in a group encourages a sense of social support and personal commitment to continue, as well as the opportunity to compare progress and fitness levels with peers. By offering team game options, the i.play system raises and maintains motivation in children lacking in exercise confidence.