Children i.play themselves fit!
Children in West Wiltshire have no excuse not to be fit and active with three i.play units to choose from! Two units have already been installed in Seymour Recreation Ground in Trowbridge and Bearfield Recreation Ground in Bradford on Avon with a third to be installed in Westbury in the coming weeks.
Funded by The Big Lottery Fund, the i.play units have been purchased by West Wiltshire District Council to try and encourage children and young people to play actively therefore improving fitness levels and reducing childhood obesity. Recent figures published by the National Child Measurement Programme show that nearly a quarter (22.9%) of 4 or 5 year olds in England are deemed either obese or overweight, with the figure rising to 31.6% by the time they are aged10 to 11. Figures like these are worrying and statutory organisations across the country are now considering providing state of art play equipment in order to encourage children outdoors away from the television or video games.
The i.play units were chosen by the children in the area when a public consultation took place at the West Wiltshire Show. Hundreds of children picked i.play as the most popular piece of equipment that they would like to see in their play area. West Wiltshire District Council granted their wish by providing three units across the region, and the two installed so far have been a great hit. Samuel Hughes, 10, from Trowbridge said "It's a lot of fun. More children should have one to play on". Amanda Brooks, 15, added: "It has already been used a lot. It has got people playing together, it's nice to see lots of people playing with it."
Below: Public Consultation taking place at the West Wiltshire Show.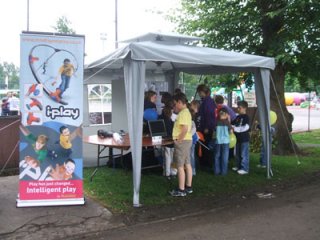 Councillor Richard Wiltshire, West Wiltshire District Council's portfolio holder for Leisure said: "As a local authority we are committed to providing services for everybody, including our children. This is something that is both educational and fun that will provide years of entertainment and pleasure."
"The i.play really is at the cutting edge of playground technology, which is always something that gets children interested."Plans to run a summer opening event to encourage children to get active is already underway.
David Whiteside, our Area Manager for Wiltshire commented, "It was great to be able to work with such a forward looking council who were keen to embrace such a new concept in fitness through play. Their faith in us and i.play is really gratifying".
Below: i.play in Trowbridge, Wiltshire